Altair Semiconductor
and
AsiaTelco
have announced development of a TD-LTE mobile hotspot for China Mobile, which incorporates Altair's TDD/FDD LTE chipset - the FourGee-3100/6200. This is the second TD-LTE device announced by the two companies, following their demonstration in June of a
TD-LTE USB dongle
. The FourGee-3100 is Altair's LTE baseband chip, which the company packages in a 9x9mm VFBGA package. The FourGee-6200 provides the companion LTE RF front-end, in a 8x8mm QFN package.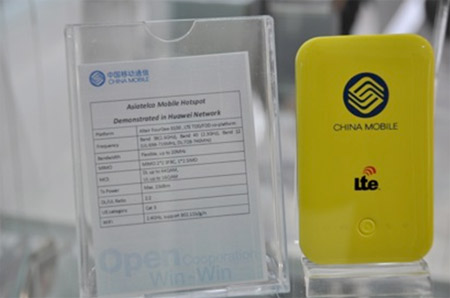 China Mobile displayed the ALM-F190 TD-LTE hotspot at ITU Telecom World in October
According to the Altair press release, the "
ALM-F190 is the first Mobile Hotspot product designed for both TD-LTE and FDD-LTE, capable of delivering 100Mbps downlink and 50Mbps uplink
." Specifications for the hotspot device were not provided, but Chinese news website
http://www.gansudaily.com.cn
published the picture above, which was taken at the recent
ITU Telecom World
event in Geneva.
The Altair 3100 utilizes the company's proprietary
O²P Software-Defined Radio
(SDR), to support both FDD and TD-LTE in any band from 700-2700MHz. Altair also claims the capability for dynamic handover between FDD and TDD, a feature which could be especially important to Sprint with their recently announced multiband LTE strategy.
Related articles: