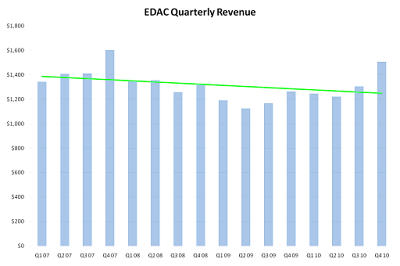 EDA revenue has trended downward over the last four years (source EDAC)
It is no secret that the EDA (electronic design automation) industry has been searching for growth opportunities for the last several years, against a backdrop of declining revenue and consolidation due to M&A (mergers and acquisitions) and attrition. The picture has improved somewhat in the last year, but EDAC (EDA consortium) annual revenue for 2010 - at $5.285 billion, only marks a return to the peak numbers of four years earlier - at $5.274 billion in 2006 (
source EDAC
).
Lacking organic growth, EDA has sought to "expand the tent", moving further into adjacencies such as silicon IP and embedded systems and software, each a critical component in
SoC realization
. Companies such as
Cadence espouse a vision (EDA360)
of moving upward in the electronics value chain, from SoC realization to system realization. Now, recent acquisition activity suggests that companies which already serve customers at levels beyond traditional EDA also see value in expanding into the adjacencies. EDA's growth path may be opening up from the outside in, rather than from the inside out.
First NI (
National Instruments)
, a company that has been around since 1976 and is a fixture on many engineers workbench, with hardware and software for test and measurement, announced the
$58M acquisition of AWR
- a small vendor of EDA tools for designing RF and high-frequency components and systems. In explaining their motivation, NI said
The fast design cycles and increasing complexity of

RF and wireless

systems demand better integration between design and test. RF system designers need to validate their simulations with actual measurements, while RF test engineers need to increase test reuse and decrease test time through more design integration.
Then, earlier this week, ANSYS -
a provider of tools
for
multiphysics simulation
, the analysis of structural dynamics, fluid mechanics, and EM (electromagnetic) simulation software, announced that they had signed an
agreement to acquire Apache Design Solutions
for approximately
$310 million
in cash. ANSYS had previously participated in SoC design only at the package level, with tools which they
acquired from Ansoft
for signal-integrity analysis and system verification of high-performance IC/package/board designs.
Apache Design Solutions had recently filed for an initial public offering, with an
estimated value of $75M
.
Apache's focus
has been on simulation and analysis tools for low-power design, with chip-level power rail and noise analysis, and recently expanding into EM analysis for chip-package co-design. Unlike the EDA industry in general, Apache has been growing rapidly despite the recession, from revenue of $25.7M in 2008, to $34.6M in 2009, to $44.0M last year according to their SEC filing. As with the NI purchase of AWR, executives from Ansys and Apache pointed to the value of combining tools that heretofore were used separately by engineers to produce a total product solution.
"The combination of these two great companies with emerging 3DIC technologies will lead to considerable advances within electronics," said Dr.

Andrew T. Yang

, co-founder, Chief Executive Officer and Chairman of the Board for Apache. "The complementary nature of our electronic and thermal product offerings provides key technological strengths that enhance our ability to deliver comprehensive, innovative and world-class simulation technologies that customers demand."
For expert insight on these acquisitions, the EE Daily News contacted veteran EDA investor
Jim Hogan
, whose recent investments have included
AutoESL - acquired by Xilinx
.
In Hogan's view -
"the biggest strategic outcome of this is EDA's footprint has expanded to include Finite Element Analysis. This makes perfect since given the 3D activity on chip and board (Intel's 3D transistors for example, TSVs, etc..)."
Jim Hogan said that the Apache and AWR acquisitions are good for EDA, because they have brought two companies with
higher multiples
than you will find with EDA companies into the picture. It will be strategic for a company like Anysys to continue on a growth path into EDA, Hogan expects that they may next go for a SPICE engine and simulation platform. Companies such as
BDA
(Berkeley Design Automation),
Infinisim
,
Solido
could be next on the shopping list.Other EDA companies currently playing in the same space with Ansys-Apache include
Sigrity
, and
Nimbic
- who are moving to a cloud-based offering.
Related article:
#48DAC: Jim Hogan and Paul McLellan present a mini-MBA on EDA startups