The first day of the CTIA Wireless Show was full of new announcements, and many interesting (and controversial) topics of discussion.
There is way too much for me to cover here (it's getting late), but I think most would agree without much argument that these are the two most significant new smartphone announcements of the show.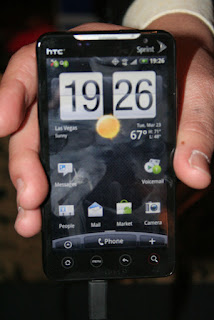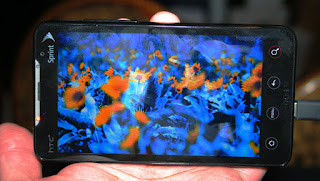 The pictures above are of the much-anticipated Sprint 4G smartphone. This is the first phone in the U.S. to support both 3G & 4G (WiMAX) operation. The device is made by HTC, and is called
HTC EVO 4G
.
Some of the specs:
3G/4G
Android 2.1
1GHz Snapdragon processor
Serves as a mobile WiFi hotspot for up to 8 devices
4.3" display
HDMI video output
Digital compass, proxiity & motion sensors
Two cameras, front & back. Back camera 8 Mpixel

This is the Samsung Galaxy-S. I hope that the clarity and vivid colors of the 4" "super" AMOLED display shows through here.
Other features:
4" super AMOLED
1GHz Samsung processor
5 Mpixel camera
3G HSPA
That's all I have time for now. There is much more to cover; new Android devices from Dell, Sony-Ericsson, Kyocera, Marvell...
Till next time.
-Mike