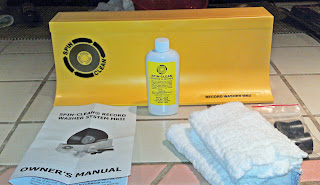 As a frugal audiophile, I have used the
DiscWasher D4
record cleaning brush and fluid since I first purchased my Yamaha YP-701 turntable (still working great after ~35 years!). The more sophisticated LP vacuum systems are just too expensive and bulky for me. But the Spin Clean sells for just $79.99, so I finally picked one as a Christmas present to myself a few weeks ago. I've acquired some LPs from the 50s and 60s in the last few years, and I was anxious to see if a more thorough cleaning could make an improvement in their sound.
The Mk II consists of a plastic container that you fill with distilled water, then add just a few drops of the supplied fluid to the cleaning pads. You then drop the two wheels into the appropriate slot for the size record you are cleaning, and you're ready to start cleaning. Spin Clean recommends that you plan a "cleaning session" for 25-50 records at a time. That's more than I need to do, and with such a small amount of cleaning fluid needed the supplied 4 ounce bottle should last me for years.
With the cleaner all setup, you slide a record into place and the wheels hold it so that the label is just above the cleaning pads and fluid. Turn the record three times clockwise (it is held snugly between the pads), then reverse and turn the record in the bath three times counter-clockwise. Lift the record out and let some of the excess fluid drip back into the basin before you lay it down to dry. I used paper towels to protect the records from my work surface, though the manufacturer doesn't provide any recommendations in this regard. I didn't want to introduce any new particles after washing the records, and this seemed to work fine.
I found that the supplied cleaning cloths do a good job of drying a record, but they are lightweight and get wet after a few cleanings. I couldn't see doing as many as 25 records without having several more of these on hand.
After cleaning approximately a dozen records, I was ready to hear some results. Half of the LPs I cleaned were given to me by
my uncle
, who was a big jazz aficionado. The other (long-abandoned) group was rescued from my mother-in-law's apartment in Belgium, where they had been stored in boxes for ~40 years. The second group had visible dust and fingerprints that were completely removed in the cleaning.
The results? I was blown away! The
Shelly Manne
234 album was recorded in 1962, and it sounded as good as new. This disk was probably fairly well taken care by my uncle, but he never had what you would call an audiophile setup. This one LP is just about enough to justify my purchase. A more recent pressing will cost you
$62 on Amazon
. What a thrill it was to hear this and imagine my uncle tapping his foot to the beat almost fifty years ago!