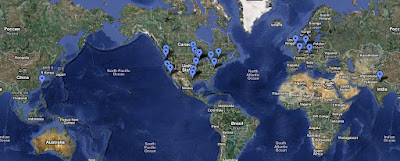 This concludes the results of my small survey of the EDA community regarding the question:
Do you think that Cadence's purchase of Denali will provide a benefit for designers?
In my
previous post
, I showed that a number of early votes came in from the participants in the acquisition, but (perhaps surprisingly) they were not exactly 100% positive.
After eliminating the votes from companies that have the greatest vested interest in the

acquisition (i.e. the participants and their most direct competitors) a total of 43 votes represented the worldwide EDA respondents.
Although the sample may be small and unscientific, the map above shows that it truly was a worldwide response.
Countries represented:
U.S.

Canada

Taiwan

India

UK

Germany

France
Over the one week period that results were collected, the NO votes just edged out the YES votes... well by a

NOse

... 22-to-21.
(Edited on May-24, 2010 to correct error in transferring votes from survey)
After this post, I found an error in my original tally. The actual result is

23-NO

and 20-YES.
While many of the votes came from unidentifiable locations, it is perhaps interesting to note that two of the NO votes originated from top tier semiconductor companies; one a company "in the Top 10" by 2009 revenue, and another from a company in the "Top 25". There was one identifiable semi company on the YES side, and that company currently ranks well outside the Top 25.
CONCLUSIONS
This obviously wasn't intended as a rigorous exercise in statistical polling, but more of a "taking of the pulse" to gauge EDA community opinion in the aftermath of Cadence's purchase of long-independent Denali. While participants were self-selected, that means (I think) that they represent people who really care.
What conclusions can be drawn? I'd say that the split vote speaks for itself. Not all bad.. and not all good. The respondents clearly don't see this as something revolutionary or different than other EDA acquisitions, but they also don't see it as all overwhelmingly bad either.