An article in this morning's San Jose Mercury News,
Internet service providers not keeping up with user trends
, got me started on a broadband speed discussion today via Twitter. Troy Wolverton makes a good point about lack of upload speed, which I also explore in my new report on
The
Emerging 4G Wireless Landscape in the U.S. Operators, Chip Sets, and Consumer Electronics
, which is available at
http://www.digdia.com/
.

The thing is, I wish I had Troy's problem. He complained about 2.2Mbps download on a 3Mbps Earthlink connection, with a 384 Kbps maximum upload speed. I don't know Troy's location, but where I live in San Jose, that would make me very happy!

You might think we have the best broadband in the U.S. here in Silicon Valley.. but not so. And no... I'm not in some fringe area of San Jose either. The fastest service I can get is AT&T "Express", which promises download speed "Up to 1.5 Mbps", and upload of "Up to 384 Kbps ".

So, I decided that it was time to compare my DSL to my 3G. The
Speedtest.net
site does the trick, since they have an iPhone app as well as DSL tester. I ran 3 tests each on 3G and DSL, and used the Albuquerque, NM server (the closest for 3G tests) in all cases.

Here are my results: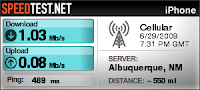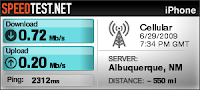 As you can see, there is quite a bit of variation over AT&T 3G HSPA, which is currently claimed to be 3.6Mbps download.

Now let's look at my DSL results: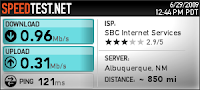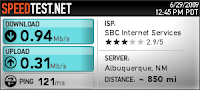 Now that's pretty darn consistent, but also noteworthy that not once did DSL beat the fastest download that I achieved with 3G! I'm not sure whether I should be happy or disappointed over this. I sure would like to have access to multi-Mbps broadband, so maybe Sprint/Clearwire's WiMAX service can bring me some relief.
Clearwire users are
reporting 2 – 6Mbps downlink speeds
in Portland. Maybe I can get access to
Clearwire's Silicon Valley WiMAX Developers Network
when it rolls out this summer. In the meantime, I'm "stuck" with DSL slower than 3G, and no AT&T support for tethering on the iPhone 3G either, although they claim it will be
available "in the future"
.

-Mike


Follow me on Twitter:
MikeDemler